Tuesday 16 November 2021 at 20:00
Gebhard Leberecht von Blücher had already established himself as an international hero before his greatest triumph south of Brussels. By 1814, "Old Blücher", "Father Blücher" or "Field Marshal Forwards", the 71-year-old Prussian Field Marshal was admired throughout the Alliance as a military leader and liberator. He had led the victorious allies from Leipzig to Paris and his hatred for Napoleon and everything French (except the local gambling casinos) was legendary.
He was a prime example of a man able to lead a fulfilled and useful life, despite occasional disturbing mental disorders. These were redeemed by his sense of humour, his deep knowledge of human nature and his ability to be a team player and a good comrade.
What kind of person was Blücher and what remains of his legend as the Prussian victor of Waterloo or the Belle Alliance in today's Germany?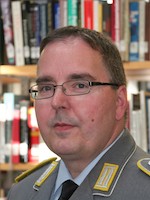 This lecture will be presented - in English - by Lieutenant-Colonel Dr. Heiner Bröckermann, who is also a military historian and head of the "Foundations of Historical Education" section at the Bundeswehr Centre for Military History and Social Sciences (ZMSBw), Potsdam, Germany, where he currently teaches and heads the war and conflict studies. As an accomplished historian, Heiner Bröckermann is the author of numerous publications on German military history with focus on the military history of East Germany
As the capacity of the Wellington Museum conference room is smaller than usual, we invite you to reserve your seat(s) as soon as possible with Hubert De Vos, Administrator & Internal Relations Officer, by please indicating your first and last name and the number of seats you wish to book.
Veuillez svp répondre à :
Hubert De Vos
hubertbmwdevos@hotmail.com
+32 496 153 430
Important: Please note that a "Covid Safe Pass" with valid QR code (on hard copy or on your mobile) is mandatory and will be asked at the entrance by staff members of the Mémorial 1815.